Customs & immigration
---
Onsite Customs
Our onsite Customs facility, Runica Hall, with its innovative Drive-Thru design, is the first of its kind in the world. We'll pick you up in a passenger buggy right at your aircraft and take you on a drive through the Hall, with short stops in front of the Customs and Immigration desks. Continuing out to the driveway, your personal transportation will be waiting just outside the doors. It couldn't be easier!
The smaller Evelyn Parlour, located right in the Customs Hall, is for small groups, flying clubs or anyone who needs extra privacy while clearing Customs and Immigration.
Onboard clearance is also arranged by request.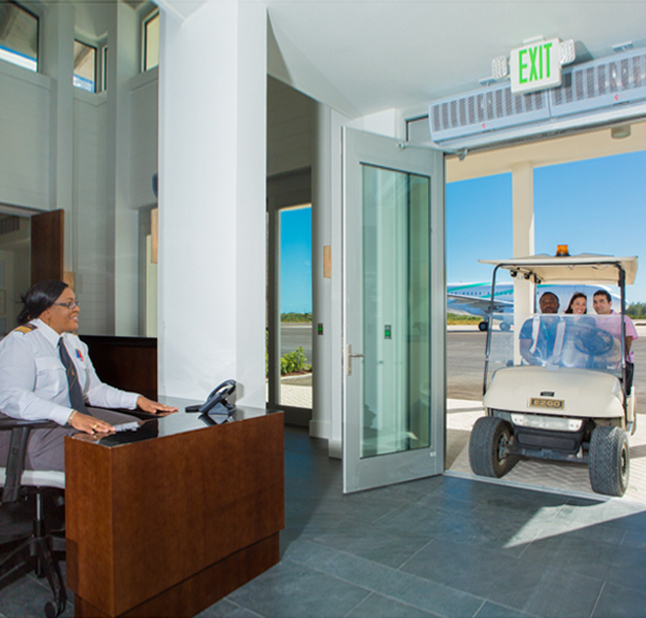 These documents are required to clear Customs and Immigration →
Provo Air Center will prepare all documentation in advance of your arrival.
Documents required:
Four copies of the General Declaration form listing all crew and passengers on board.

One Immigration form per individual staying in the country, listing name, birthdate, passport number and expiration date, nationality and an address.

One Customs form per last name, i.e. one per family, listing names, birthdates, nationality, intended address (hotel, villa, yacht or other) and number of bags.
---
Aircraft making a tech stop and passengers in transit do not need to clear Immigration, but do need to present an inbound and outbound General Declaration.
---
Passports
---
All visitors need a valid passport. The Turks and Caicos does not accept visitors without passports valid for at least 90-days beyond the arrival date. Copies of passports are not accepted. VISITORS WITHOUT PASSPORTS WILL BE REFUSED ENTRY. The aircraft that brought them, whether private or charter, will be required to take them back to the point of origin.

Visas
Entry requirements for the Turks and Caicos.
Some visitors need a visa to enter the Turks and Caicos. Visitors from any of the visa exempt countries listed here do not need a visa. If you currently hold a US, UK or Canadian visa, regardless of nationality, OR your country is listed as being Visa Exempt, you DO NOT need a visa to enter the Turks and Caicos Islands.
Please visit the Offical Portal of Government of the Turks and Caicos website to see if your country is on the Visa Exempt list. If your country is not listed, and you do not have a current US, UK, or Canadian visa, you will need to apply to the Turks and Caicos Department of Immigration IN ADVANCE for a visa. Visas are not issued upon arrival.
General Declaration
A General Declaration form must be presented and stamped by our Customs Department for every flight in and out of the Turks and Caicos. General Declaration forms are available here.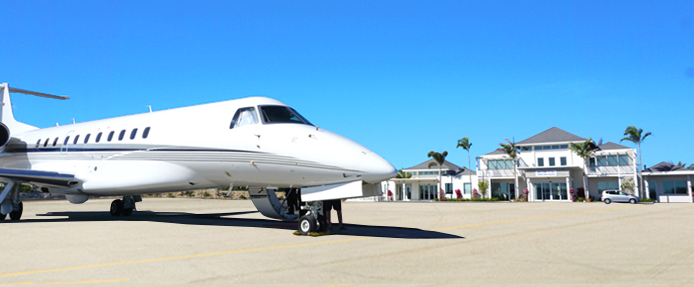 Now located at Taxiways E and F
Unicom 129.7
Tel (649) 339-4101
Fax (713) 457 5215
Hours of Operation: 06:00 to 20:00 LT (AST) Daily
PRIVACY POLICY
---
Your Privacy - It's a Really Big Deal
Private travel isn't just about luxury or convenience. It's also about protecting your privacy.
Provo Air Center staff will never ask you for a photo or an autograph, and will always do the utmost to guard our guests from unwanted attention. We do not post photos on our Facebook page or other social media other than group activities, and always with your permission. We consider social media a tool for sharing ourselves with you, not for alerting the media that you are here.
All of our staff have taken the following pledge:
I agree to uphold Provo Air Center's long-standing commitment to safeguarding the information with which I have been entrusted. Your trust in me is essential to our goal to be the world's finest FBO, and a leader in innovations that benefit our guests. Ensuring your confidentiality is a critical part of our security programme, and I pledge to always do my utmost to protect it. I will never ask you for a photo or an autograph, and will never advertise your presence as our guest.
Security
Provo Air Center's experienced security staff are onsite round the clock, employing the latest technology to safeguard our guests, aircraft and fuel supply with surveillance, access control, patrols and 'know your customer' protocols. With many years of experience hosting everyone from royal families to heads of state to sports and music celebrities, our team is well-versed in coordinating with private and government security agencies such as the U.S. Secret Service.
PRIVACY & SECURITY